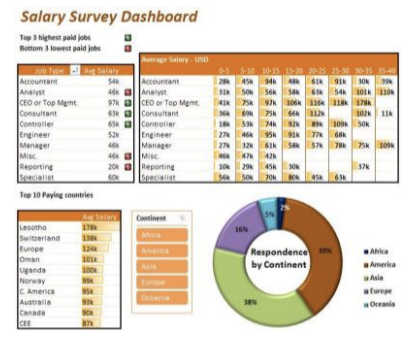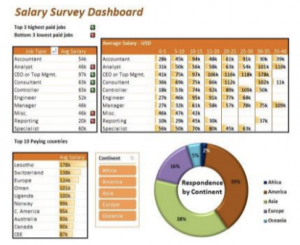 Dashboard popularity is continuing to grow as organizations look for easier ways to access information within large data sets and to analyse that information in hopes of managing performance, making better decisions and lowering overall costs. Dashboard reports allow managers to get high-level overview of the business. Essentially, a dashboard report is a way to visually present critical data in summary form so that you can make quick and effective decisions. Excel is an excellent tool to make powerful dashboards that can provide analysis, insight and alert managers in timely manner. A dashboard is a business tool that displays a set of PIs (performance indicators), KPIs (key performance indicators), and any other relevant information to a business user. Dashboard data is often displayed in real-time after retrieval from one or more data sources in a business. Dashboards are interactive, allowing an executive to drill into particular aspects of the display or switch between facets or views of the data.
What Will I Learn From This Course?
Users must have basic knowledge of Excel charts, pivot tables, functions and formulas.
Course Outline for This Programme